While
lurking
err...browsing blogland, I found the cutest Easter wreath at
Debbie Does Creations
.
It had lovely colors, tulle, ribbon, and GLITTER! What's not to love? So after talking to
Debbie
, I decided to make my own. BUT - not only my own, but one for you guys!!! That's right, a giveaway!!! I'm going to take you through the steps to make one. Then we'll get down to the giveaway details.
I started with two styrofoam wreaths, one smaller than the other by about an inch and a half.I also had a pack of 6 styrofoam eggs that I later split in half, glitter (I just love glitter, don't you? So sparkly and shiny), tulle in 4 colors (blue, green, yellow, purple) and a pink plaid ribbon.
First I started by cutting all of the tulle into 12in lengths, then cut the ribbon in about 6-8in I believe.
Next I tied the lengths of tulle in a color pattern - blue, yellow, green, purple, pink ribbon.
I did all this while watching tv. Great activity for some downtime LOL!
Here is the completed large wreath;
Then I started on the smaller one;
That's my cream quilt and sheets as a background. I was too lazy to figure something else out!
I asked my husband to split the foam eggs, because they just wouldn't cooperate with me. Then I enlisted my special helper to glitter the eggs.
Bear had a BLAST! And hardly any glitter made it off the foil liner I put on the counter! So Mom had a blast too LOL!
Here are the finished eggs;
Then I used my glue gun to glue them on. Sorry, no pics of that. I was all alone. Bear abandoned me for Pokemon with his friends.
Here is the finished product;
This is the one for the giveaway. SO CUTE, right?? So now let's get to the giveaway.....
Rules;
Leave a comment telling me what you like most about this prize.
Follow me on Linky Followers or GFC. Leave a comment telling me you did so. Very simple!
Winner will be announced Monday the 19th by 8PM
Extra entries;
Follow me on Facebook = 1 extra entry (leave a comment telling me you did so)
Follow me on Twitter = 1 extra entry (leave a comment telling me you do so)
Leave a comment telling me what you would like to see on my blog = 2 extra entries
Have a blast!
Linking to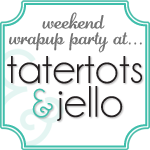 Linking to
Serenity Now
Linking to